Aside from antlers, deer are also hunted for their tasty meat. However, before you can cook that meat and serve it to your family, you need to skin the animal first. If you believe that the challenge of hunting a deer ends by capturing the animal, wait until you get to the skinning part.
There are two ways that you can skin a deer. Either you let a butcher do it for you, or you do the skinning yourself. Deer skinning can be quite challenging and tough for any person. But, if it is not your first time, you probably know by now that choosing the right skinning knife can make the job a whole lot easier.
A skinning knife is a hunting tool that is mainly used to prepare the captured animal as food. Skinning or hunting knives are different from your ordinary kitchen knife because they are specially made to be extra versatile and sturdy.
Traditional skinning knives are designed to have slightly curved blades, making them highly efficient tools for peeling the skin off an animal. However, current knives have been designed to be used not just for skinning but for boning and slicing slabs of meat as well.
If you are thinking of buying your very own skinning knife, here are four of the best blades in the market that you must consider.
Four Best Deer Skinning Knives
The model 119 Special Fixed Blade Knives by Buck Knives are specially designed for hunters who prefer to have the traditional solid feel of a fixed blade in their hands. The 199 model is made in the United States by the family-owned Buck Knives.
The 119 is created from 420HC steel which boasts of excellent edge retention and corrosion resistance. It is hardened to a standard Rc 58 for you to get the best performance out of it. Overall, this knife measures 10 ½ inches with a blade length of six inches and only weighs 7.5 ounces.
The 119's clip blade is guaranteed to make piercing, cutting in tight places, and other detail works to be easier. Its black phenolic handle is made with palm swells for a more comfortable grip. Furthermore, the aluminum pommel gives the knife its aesthetic appeal.
The 119 Special Fixed Blade Knife is among Buck's list of top selling knives. It comes with a protective leather sheath with a snap fastener. The knife also has belt loops which allow any hunters to carry it safely in their belts wherever they go.
Pros:
High-quality knife at an affordable price
Corrosion resistant steel and high edge retention
Simple but elegant design
Durable
Cons:
The phenolic handle tends to get slippery under certain conditions
Quite heavy because of its thick steel
The point may break easily
If you're looking for an affordable but highly reliable knife to take with you during your deer hunting trip, the Elk Ridge Hunting Knife Two Piece Set is just the perfect choice for you. The set includes a gut hook skinner and a small sharp finger caper knife packed in one portable sheath.
Elk Ridge is one of the most respectable knife makers not just in the United States but around the world as well. Its green camo hunting knife set is a testament to the brand's mission of creating affordable and high-quality knives for hunting.
The Elk Ridge Hunting Knife set features one straight edge blade and a gut hook blade which measures 7 inches and 6 ½ inches overall, respectively. The duo is ideal for hunters who love to stay for extended periods in the wilderness.
The trailing point, full tang, skinning knife has a black stainless-steel blade which measures 3 ½ inches. It is equipped with a green camo ABS handle designed with finger grooves and a lanyard hole which is suitable for affixing cordage.
On the other hand, the gut hook knife also features a 3 7/8 inches black stainless-steel blade. The deep-bellied, full tang knife has a finger hole for tighter control. The knife also has a green camo non-slip textured ABS handle and a thumb jimping at the back of the blade for firmer control.
Both the skinning and gut knives are stored securely in a black nylon dual carry sheath. The 440 stainless-steel used in the creation of both knives contains more carbon to give the blades excellent toughness and better edge retention.
Pros:
Affordable
Compact
Razor sharp
Comfortable grip
Aesthetic appeal
Cons:
Sheath not durable enough to handle the sharpness of the blades
Handles may not suit hunters with large hands
The Outdoor Edge SwingBlaze Double Blade Hunting Knife is considered one of the most innovative knives of this generation. The knife features a drop-point skinning blade on one side and a gutting edge on the other side. Its design will allow you to switch between a skinner and gutter knife in just a push of a button. It's essentially two tools in one.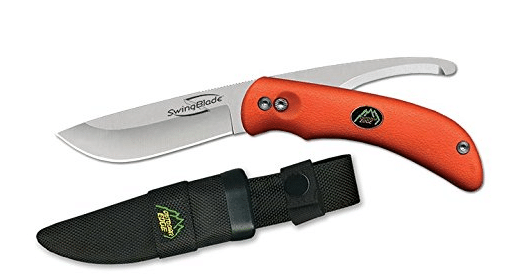 With the SwingBlaze, Outdoor Edge combined functional design not only with the sharpest, edge-holding steels but also with advanced production and traditional craftsmanship process to create an excellent two-in-one knife for big game hunters like you.
The SwingBlaze combi-knife is guaranteed to cut not just the skin of the deer but the meat beneath it as well. The knife is so sharp it can open games like a zipper while eliminating the possibility of cutting any internal organs inadvertently. Because it is designed to cut from the inside, the blade will remain sharp for more extended periods.
The SwingBlaze hunting knife is crafted from Aichi AUS-8 stainless-steel, and zero quenched for better performance, excellent edge retention and hardened to 57-58 Rockwell.
The knife's orange Kraton handle is specifically designed to provide firmer, non-slip grip even if it's wet. The knife comes with a high-quality nylon belt sheath complete with a Kydex insert. The SwingBlaze measures 8.3 inches overall. The skinning blade measures 3.6 inches while the gutting blade is 3.2 inches long.
Pros:
Practical two-in-one knife
Easy to use
Affordable
Comfortable non-slip handle
Cons:
Not easy to clean
Switching between the two blades is quite hazardous
Another excellent hunting knife from Buck Knives is the 113 Ranger Skinner. This knife combines the elegance and performance of Buck's Ranger series and the classic Buck Vanguard. The 113 Ranger Skinner is a highly-recommended knife for skinning game.
Just like its other contemporaries from Buck's, the 113 Ranger Skinner is made from premium materials to make it more reliable when you're in the wilderness. Its 3 1/8 inches drop point skinner blade is made from 420HC steel which is a standard material used by Buck Knives for its knives. This material makes the blade corrosion resistant and gives it great edge retention as well as durability.
The 113 Ranger Skinner is optimized for skinning game. Its narrow tip and full, curved belly design allow the knife to provide smooth skinning cut that aids hunters in penetrating thick layers of skin. On the other hand, the downward angle point of the blade prevents any accidental slice through the hide from happening.
The 113 Range Skinner's compact built, and versatile blade makes it more functional than other skinning knives available in the market today. Not only that, the American Walnut Handle and the Brass Bolster will ensure that it will fit perfectly fit in your hand. Add to that the genuine leather sheath with integrated belt loop and you now have an ergonomically designed and guaranteed American-made skinning knife that you can carry with you while hunting.
Pros:
Corrosion resistant
Optimized for skinning game
Classic and functional use
Ergonomic design
Affordable
Cons:
Not aesthetically appealing
Not suitable for hunters with large hands
Key Takeaways
Your skinning knife plays a significant role in making your deer skinning task easier. When choosing the best knife to purchase, you need to take into consideration the following factors so you won't end up disappointed.
Our choice for best bang for the buck in this comparison would be the Outdoor Edge Swing Blaze, but there are no real bad choices in the group.
Keep these in mind while you make your choice for your best skinningin knife choice.
Blade – if there's one thing that matters most in the skinner knife that you're about to buy, it probably is the blade. Make sure that the blade is corrosion resistant, durable, and made from high-quality steel. Substandard blades tend to get dull faster or break.
Handle – make sure that the handle is non-slip especially when it's wet to avoid accidentally cutting the game in unnecessary areas, or worse, cutting yourself. Not only that, but you also need to consider the length of the handle to ensure that it will fit your hand.
Price – don't be swayed by the notion that high price is equal to good quality products. Read reviews from reliable sources and customers before making your purchase. Sometimes, blade makers offer their premium knives at affordable prices.
Also, to make sure that your knife will last longer, always remember that some hunting knives are designed and manufactured for specific purposes only. For instance, a skinner knife should only be used for skinning animals unless the manufacturer indicated that it can be used for cutting flesh or boning.